Hello, welcome to my website...
Introduction
I am a non–fiction author writing a biography of the novelist and journalist Joseph Roth (1894-1939), which will be published by Granta Books in 2022. My last biography revealed the story of an extraordinary man who connected the worlds of art, rock'n'roll and criminality in Fifties and Sixties London: that book, Jumpin' Jack Flash: David Litvinoff and the Rock'n'Roll Underworld, was named the best debut biography of the year in the Guardian.
On this website you can learn more about my work, keep up to date with events I'm participating in, and get in touch with me if you wish.
Aside from writing biographies, I am the author of a popular science book about dinosaurs and the editor of a volume of medieval Hebrew poetry. When I'm not researching and writing my books I work as a writing tutor, journalist, proofreader and copy-editor. My journalism for national titles includes a cover story for the Guardian's Weekend magazine and book reviews for the Guardian, the Daily Telegraph and the Spectator. In 2019 I contributed this piece to the National Centre for Writing's booklet Walking Norwich: the Real and Imagined City, in which I explained why the city's historic Magdalen Street holds such a fascination for me. I am available for freelance commissions. Please write to me via the contact form.
I also teach a 12-week online course in Creative Non-Fiction, part of the National Centre for Writing and the University of East Anglia's Creative Writing Online programme. The next intake is in September 2021 – for more information, please see here.
I hope you find my site of interest. Thank you for visiting.
Jumpin' Jack Flash: David Litvinoff and the Rock'n'Roll Underworld
Jonathan Cape | £16.99 (out now)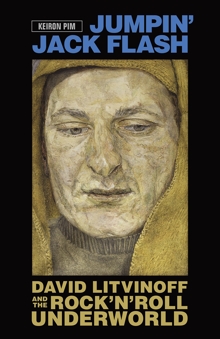 'The best debut of the year was surely Keiron Pim's Jumpin' Jack Flash (Jonathan Cape), an account of the mesmerically ghastly David Litvinoff, an inspired chancer who scampered between the worlds of art, music and organised crime in the 1960s...'
Kathryn Hughes, The Guardian, 'The best biography and autobiography books of 2016'.
'Pim's remarkable book pulls from the shadows the story of a man who did his best to leave no trace.'
Will Hodgkinson, a The Times Book of the Year.
Jumpin' Jack Flash: David Litvinoff and the Rock'n'Roll Underworld is the first book published about David Litvinoff (1928–75), who has been described as 'one of the great mythic characters of '60s London' – outrageous, possessed of a lightning wit and intellect, dangerous to know, always lurking in the shadows as the spotlight shone on his famous friends. Flitting between the worlds of music, art and crime, he exerted a hidden influence that helped create the Kray twins' legend and Lucian Freud's reputation as a man never to be crossed; connected the Rolling Stones with London's dark side; redirected Eric Clapton's musical career; and shaped the plot of the classic film Performance by revealing his knowledge of the city's underworld, a decision that put his life in danger.
Litvinoff's determination to live without trace means that his life has always eluded biographers, until now. This extraordinary feat of research entailed 100 interviews over five years, with everyone from Eric Clapton and Marianne Faithfull to James Fox and 'Mad' Frankie Fraser: the result is by turns wickedly funny, appalling, revelatory and moving, and epic in its scope as it traces a rogue's progress at the interface of bohemia and criminality from the early Fifties to the Seventies. It is also an account of Keiron Pim's determined pursuit of Litvinoff's ghost, which took him from London to Wales and Australia in a quest to reveal one of British pop culture's last great untold stories.
Jumpin' Jack Flash attracted widespread positive coverage on publication in January 2016 -- see the reviews here -- and an updated paperback edition was published on January 27th 2017. I was delighted when it won the Biography & Memoir category at the East Anglian Book Awards in November 2016. Writers including Jonathon Green, Iain Sinclair, George Szirtes and D. J. Taylor also praised the first edition; here is what they had to say:
'Keiron Pim's Jumpin' Jack Flash is an outstanding study of a remarkable, but until now wholly elusive figure. Meticulously researched and elegantly written, Pim's work is the first to bring us the story of David Litvinoff, that real-life Zelig of post-war British bohemia. And via the magnesium flare of his subject's story, Pim illumines the multifaceted world through which he moved: East End gangsters, Chelsea aristos, Soho artists and Notting Hill hippies. Litvinoff, for so long the missing piece of so many cultural jigsaws, finally gets a story of his own and it's even more bizarre than one might have hoped. This will be an indispensable read for anyone who appreciates that mad, alluring, myth-filled world.' (Jonathon Green, author of Days in the Life: Voices from the English Underground)
'Keiron Pim nails it, nails the passing shadow of a life to the deck. The rock'n'roll legend of David Litvinoff is given its definitive account. A considerable work of detection and human sympathy unpicking old myths and making them new.' (Iain Sinclair)
'Keiron Pim's Jumpin' Jack Flash is a kaleidoscopic ride through the acid-fields of Fifties and Sixties London in search of David Litvinoff, a brilliant, desolate, unforgettable yet hard-to-focus gay Jewish grifter. Ironic stereotype and rebel at once, Litvinoff chars the car-crash societies he moves through. Mick Jagger, Lucian Freud and the Kray twins flash past in the throng, all sustained by drugs, sex, art, film and a great deal of rock'n'roll. Litvinoff is dazzling. Pim's pilgrimage is appropriately and meticulously dazzled.' (George Szirtes)
'A captivating and prodigiously well-researched account of that legendary 1960s London sub-world where criminality and bohemianism met head-on.' (D. J. Taylor)
Litvinoff has been described as a Zelig-like figure of postwar London, close to the era's most famous people at critical moments but always lurking in the background, briefly wandering into view before slipping away again. Can you spot him in this classic Pathe News footage of the 1955 Soho Fair? A clue: look for the bearskin hat...

Find out more about Jumpin' Jack Flash: David Litvinoff and the Rock'n'Roll Underworld.
The Bumper Book of Dinosaurs
published in the USA as
Dinosaurs: the Grand Tour
Square Peg | £18.99 / The Experiment | $24.95
Out now in the USA in a fully updated second edition (published December 2019), this popular science guide to dinosaurs has proved a big hit with American readers of all ages. Say hello to Giganotosaurus, Velociraptor and Tyrannosaurus. Ready yourself for the deadly horns of Zuniceratops and the razor-sharp tail of Tuojiangosaurus. But above all, be sure to expect the unexpected. Armed with a host of stunning recent discoveries, Dinosaurs: the Grand Tour reintroduces us to these mind–boggling creatures in mesmerising detail. As we live through a golden age of discovery, the rise and fall of the dinosaur is once again staking its claim as nature's most spectacular phenomenon.
Find out more about The Bumper Book of Dinosaurs / Dinosaurs: the Grand Tour.
Into the Light: the Medieval Hebrew Poetry of Meir of Norwich
East Publishing / UNESCO City of Literature | £9.99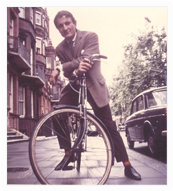 The first published English translation of Meir of Norwich's poems brings a valuable medieval literary voice to prominence after more than 700 years.
Everything we know about Meir ben Eliahu – his name, his experience as a Jew in 13th–century England, his love of God – comes from the twenty poems in this book, which won the Jarrold New Writing Award at the 2013 Norfolk Arts Awards and formed the basis of a talk during Jewish Book Week 2014.
The poems reflect the dark experiences of England's Jewish communities in a time of persecution and bloodshed but, as Keiron Pim writes in his introduction, 'Always there is hope that this night of the Jewish soul will pass and the long–awaited dawn arrive.'
For more than 600 years they were lost, only to be rediscovered in the late 1800s in the Vatican Library and, in the case of one poem, in a Russian manuscript.
Now they have been reinterpreted for today's readers in a beautiful and atmospheric new translation.
'This work is important both because of the quality of the writing itself and also for what it can tell us about a period in time that is quite distant from today and about which not much is known ... The book might appear scholarly, given the historical context, the detailed introduction by Pim, the note from the translators, and the other paratexts, such as explanations of some of the poems and the poetic features, but in fact it is a work that is for any audience ... The final lines of Meir's poetry are "Take pleasure in my precious meditations,/ these songs of exultation and of awe." A reader doubtlessly does take pleasure from Meir's writing.'
B. J. Epstein, Wales Arts Review, August 4th 2013.
'... we are treated to the Hebrew texts as well as an English translation of the poems accompanied by an introduction and partially annotated. In itself this is a feat and the editors and translators are to be congratulated ... the translators have sought to preserve the essential meaning of the poems, while striving to "produce a text in English, which reads well." Indeed, the translation does read well.'
Karen Schousboe, www.medievalhistories.com, July 19th 2013.
Find out more about Into the Light at the National Centre for Writing website.